Claimed Volts must be synced with the Ethereum network before they are used to craft and mint Zapper NFTs.
To sync your volts, make sure you are on the Ethereum network and that you have enough ether (ETH) in your wallet to pay for gas fees.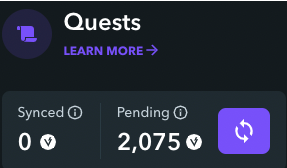 When you are ready, click on the purple sync button beside the number of Volts you have "Pending." A wallet pop-up will prompt you to sign and complete a transaction.
Once the transaction has been approved and completed, the "Pending" Volts will be moved over to the "Synced" Volts section.