Each NFT requires a certain combination of NFTs and/or Volts in order to craft it. For example, if I want to craft a Silver Zaphrodite NFT, I either need 3 Common Zaphrodites, 2 Common Zaphrodites + 1000 Volts, 1 Common Zaphrodite + 2000 Volts, OR 3000 Volts.
For a full list of NFTs & the crafting requirements, scroll down to consult the combination chart at the end of this FAQ.
This article walks you through crafting a Silver Zaphrodite using 3000 Volts. To do this, you first need to make sure you have enough Volts synced on the Ethereum network. If you need a refresher, check our FAQ on Syncing.
Once you have collected the NFTs and/or Volts needed, navigate to the rewards page and select the NFT you want to craft. Make sure your network is set to the Ethereum mainnet.
To craft, click the purple hammer button in the top right corner of the NFT card.
In the crafting window, you have the option to increase or decrease the number of Common NFTs you are using to craft the Silver Zaphrodite. You can select "Use Volts to purchase" if you would like to supplement your Common NFTs with Volts you have synced to your account. If you set the Common NFTs to "0," the NFT will be minted using only Volts.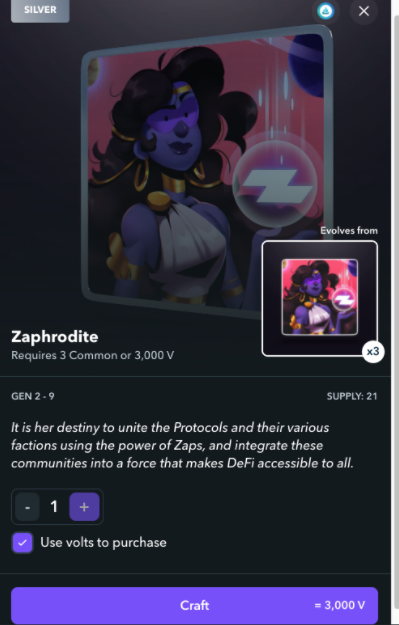 When you click the "Craft" button, a wallet pop-up will prompt you to sign a transaction. Once you sign, you will be redirected to your wallet in order to confirm the gas fees and the transaction.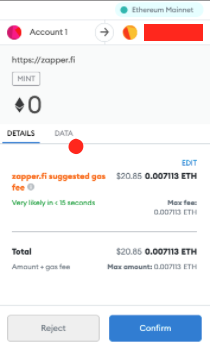 Once the minting transaction has been completed, you will be able to see the new NFT on your dashboard. You can either see it in your NFT collection or on the Rewards page under the "owned" section.
CRAFTING COMBINATIONS
Silver
Gold
Trophy
Zaphrodite

3 Commons
2 Commons + 1000v
1 Common + 2000v
3000v

3 Silver
2 Silver + 3000v
1 Silver + 6000v
9000v

n/a
Zapper Terminator
3 Commons
2 Commons + 1000v
1 Common + 2000v
3000v
3 Silver
2 Silver + 3000v
1 Silver + 6000v
9000v
n/a
Chad, the Yield Farmer
3 Commons
2 Commons + 1000v
1 Common + 2000v
3000v
3 Silver
2 Silver + 3000v
1 Silver + 6000v
9000v
n/a
Uniswap Unicorn
3 Commons
2 Commons + 1000v
1 Common + 2000v
3000v
3 Silver
2 Silver + 3000v
1 Silver + 6000v
9000v
n/a
Aave Ghost
3 Commons
2 Commons + 1000v
1 Common + 2000v
3000v
3 Silver
2 Silver + 3000v
1 Silver + 6000v
9000v
n/a
Sushiswap Chef
3 Commons
2 Commons + 1000v
1 Common + 2000v
3000v
3 Silver
2 Silver + 3000v
1 Silver + 6000v
9000v
n/a
Synthetix Spartan
3 Commons
2 Commons + 1000v
1 Common + 2000v
3000v
3 Silver
2 Silver + 3000v
1 Silver + 6000v
9000v
n/a
Shadowy Super Coder
3 Commons
2 Commons + 1000v
1 Common + 2000v
3000v
3 Silver
2 Silver + 3000v
1 Silver + 6000v
9000v
n/a
Zapeus
3 Commons
3 Silver
3 Gold
Zappy
3 Commons
3 Silver
3 Gold