Introduction
Exchanging tokens is a weekly quest in Season 2. Completing this quest will allow you to earn XP and Volts. The amount of XP you earn for the quest will increase for up to 2 consecutive weeks if you maintain a streak.
In order to complete this quest, users need to swap a token for another one on the Zapper's Exchange page. Once the swap is complete, users will be able to claim their quest rewards.
To learn more about tokens and how they work, read our Learn article: https://learn.zapper.fi/articles/what-is-a-token
Set-up
After opening your Zapper dashboard, make sure that you have connected your wallet to Zapper. This quest can be completed on either Ethereum, Polygon, or BSC, and it requires an on-chain transaction to be considered completed.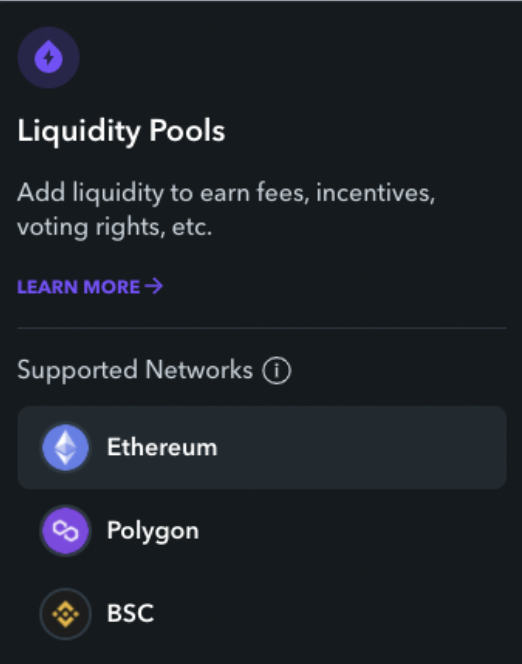 Complete the Quest
Once your wallet is connected, you can click "Quests" under your address on the left-hand side. You will be redirected to the Quest page, where you will see a list of all the quests available.
If your wallet address has not submitted an on-chain transaction to swap tokens on the Exchange page, the "Claim" button for the "Exchange" quest will be greyed-out.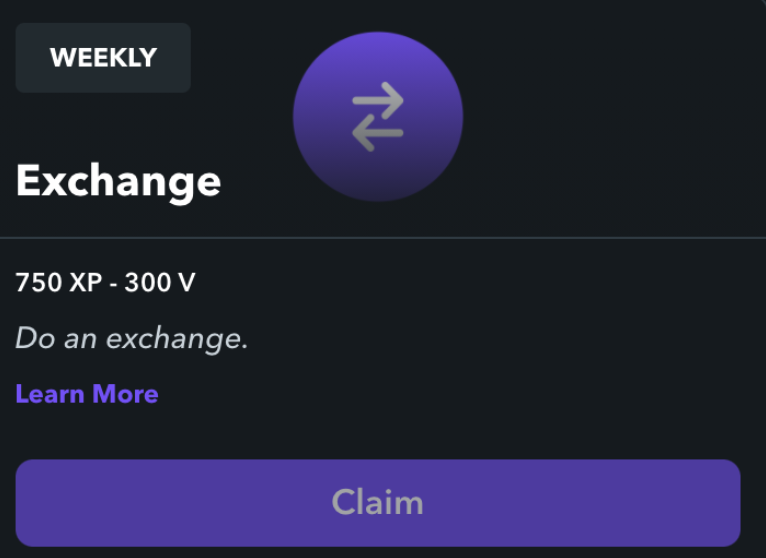 To complete the quest, click on the "Exchange" page in the left panel. From this page, you will be able to swap into more than 2000 tokens using the best quotes from over 20 sources on various networks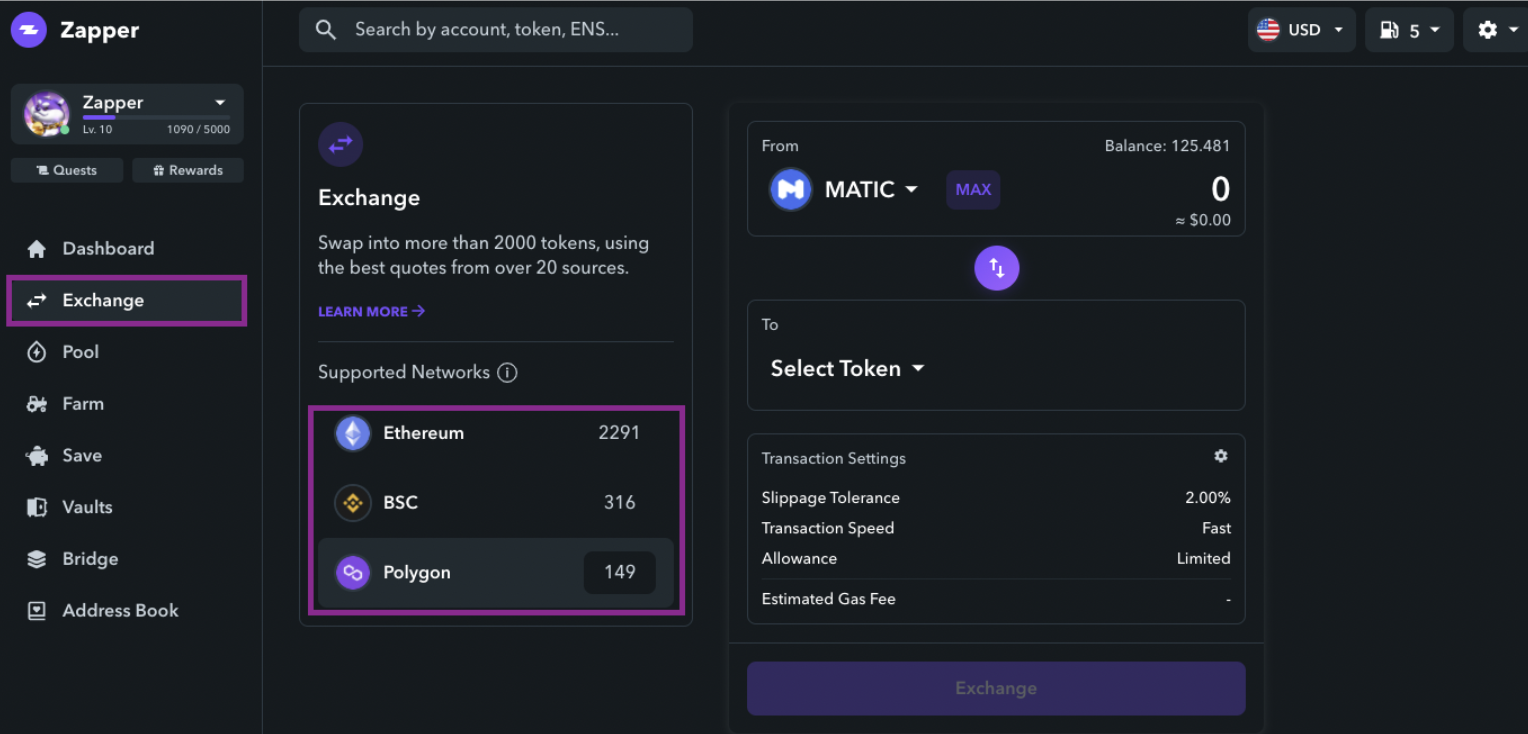 Swap a token you own to a token of your choice by clicking on "Select Token." You can scroll through the list manually, or search for a specific token you would like to swap in the search bar.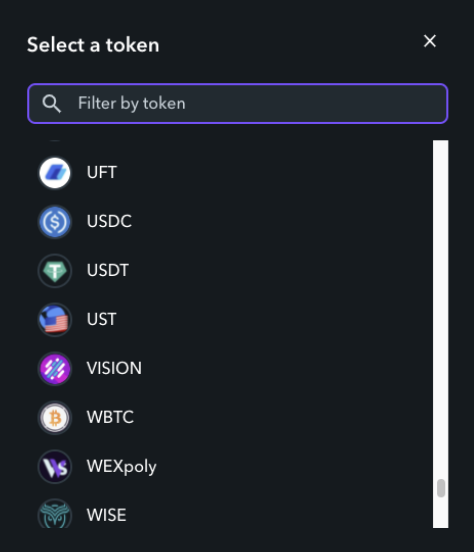 A window will pop up with required fields you must fill out in order to submit the transaction.
As an example, let's walk through swapping $MATIC tokens for $USDC tokens. First, you make your token selection and then set the amount of $MATIC you want to swap.
Zapper will propose an exchange route based on the lowest cost and most efficient speed. You can also adjust your slippage tolerance for the transaction and review estimated gas fees.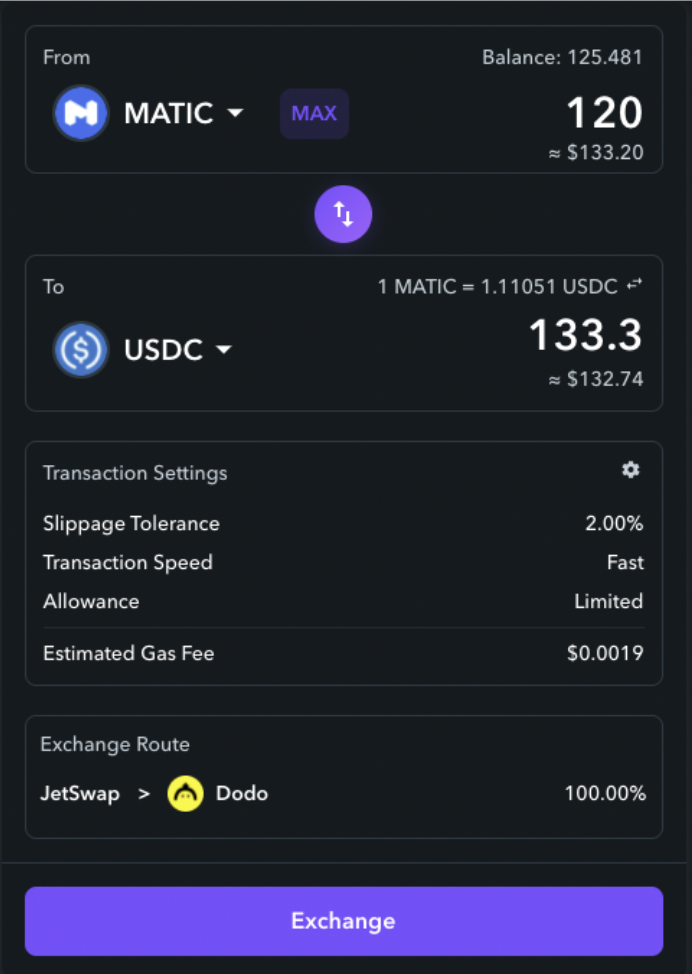 Once you have made all your selections and reviewed the transaction data, click "Exchange." This will then prompt a pop-up from your connected wallet.
It is important to remember that for some tokens, there will be two steps in the approval process: you may be required to Approve a token exchange transaction and then Exchange the transaction to complete the swap. Make sure you are keeping an eye on the transaction window to ensure you've completed all transaction prompts.
Please note that wrapping tokens DOES NOT count as an exchange for the purposes of the quest. So if you are wrapping ETH to get WETH, this will not count towards quest completion. Only token swaps can fulfil the quest requirement.
Once your exchange transaction is confirmed and completed on the dashboard and in your wallet, the "Exchange" quest is done! You can return to the Quests page to view it and claim your XP and Volts.
Claiming XP and Volts
To claim your XP and Volts, click "Claim" under the appropriate quest. You will be prompted by a wallet pop-up asking you to sign to prove that you own the wallet address. This signature will not need to submit a transaction to the blockchain.
Claiming XP and Volts can be performed on any network available on Zapper.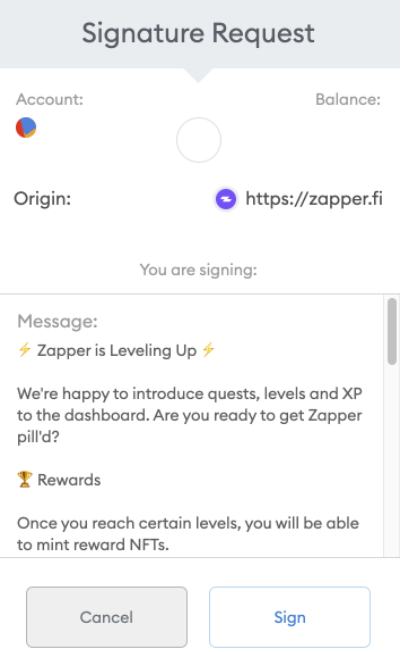 For more information on XP and Volts and how they can be used in the Zapperverse, visit the XP and the Volts sections of the FAQ.
Once you have confirmed the signature you will be able to view the amount of XP and Volts you have claimed.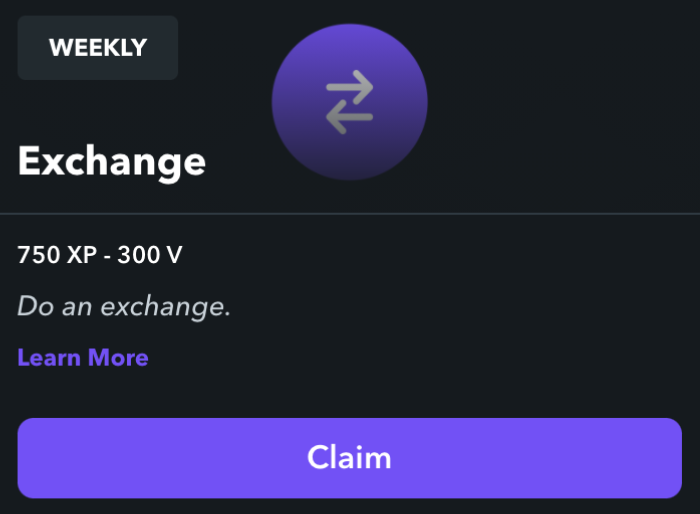 Streak
If you complete the "Exchange" quest multiple weeks in a row, it increases the amount of XP you earn for that quest up to 2 consecutive weeks.
After the 2nd week, the amount of XP you earn is maintained at that level unless you break the streak. The number next to the flame emoji 🔥 tells you how many weeks you've been on a streak.
To keep a streak going, you must continue to swap tokens on the Exchange page weekly. If a week is missed, your streak will be reset along with the amount of XP you earn for the quest.
| | | |
| --- | --- | --- |
| | XP earned | Volts earned |
| Week 1 | 750 | 300 |
| Week 2+ | 1000 | 300 |